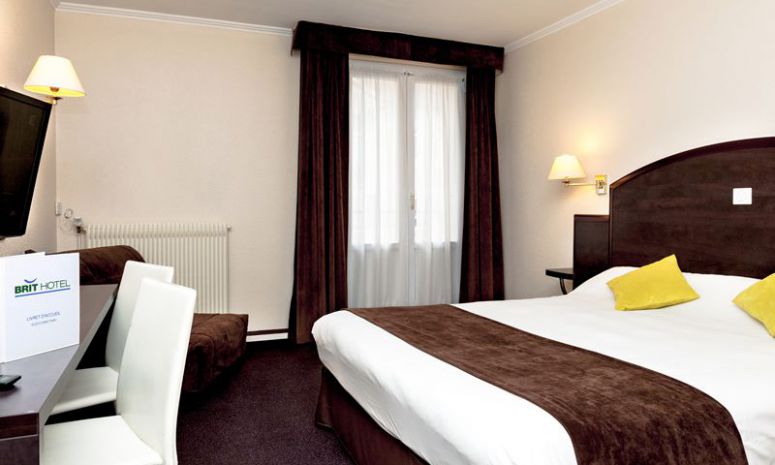 Our advantages
Air-conditioned Hotel

Closed parking and garage

Near train station and historic city centre
Our rooms
Our 3 star rooms in Cahors
The Hotel offers air-conditioned rooms, equipped with shower, WC, TV, hairdryer and free wifi.
Our rooms are spacious, airy and comfortable. You will have all the opportunity to rest as you wish thanks to the soundproofing of our rooms.

Parking : €7,00

Free Wifi

Home 24H/24

Air-conditioned rooms
As a whole, our hotel has 39 rooms including 2 communicating rooms; these last ones are ideal to welcome a family of 4 persons since one room is made up of a double bed and the other room is made up of 2 single beds. Of course, each room is equipped with the same services.
Our bedding varies between rooms with a double bed of 160cm and single beds of 90cm.
The majority of our rooms are equipped with a bathroom with an Italian shower. Reception products and a hair dryer are at your disposal.
The televisions installed in our different rooms are LCD screens and all are equipped with Canal+ and BeInSports sports channels. Also, other cable and satellite channels are available.
A mini bar is at your disposal, according to your desires, in each of our rooms.
Finally, WiFi connection is free throughout the establishment.
Brit Hotel Cahors - Le France
Indice de
Satisfaction client
Type de chambre
Tarif du jour
Nombre de chambres
Cahors
Near the hotel
The Valentrere Bridge
The river the lot
The Grand Cahors Media Library
The Hospital Center
Access
Cahors is a city enclosed in a meander of the Lot. The hotel is located east of the city. Do not hesitate to follow the SNCF train station, which is announced early enough on the road.
Indice de
Satisfaction client
Very good as normal. The parking and easy access to the Main Street make it very attractive when we visit Cahors .
Read more
Excellent. Hallways are dark and could be improved with paint and new carpeting. Loved the bright room. Good bed.
Read more
All went well....Great location for a little wander around. On edge of centre so not far to walk to but also means not tricky for driving in and out of town. Cahors very lovely... we just there as stopover onions drive.
Read more
Very good. Room overlooking courtyard with no traffic. Comfortable room temperature.
Read more
Very good. It was quiet and the bed was very comfortable. The location so close to the downtown area, the bridges and the proximity to the SNFC was perfect.
Read more
A good place to stay for a couple of nightd
Read more
This hotel was ideal for our visit to Cahors.
Read more
Overall a really good stay at a really good price
Read more
Value for money. Great location and friendly staff. Will come again .
Read more